Twins Owner Carl Pohlad Passes Away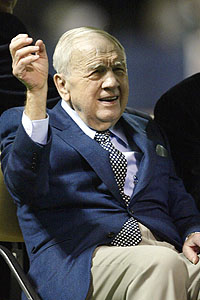 I just read this online, but longtime
Minnesota Twins owner and billionaire, Carl Pohlad passed away today at 93.
From what I know of him and talking with some Twins fans over the years, they have called him cheap, greedy and demonize him for his part in the attempted contraction of the team.

In light of it all; however, you cannot discount the success that's he had in life and the Minnesota organization.

Rest in peace, Carl Pohlad.
From ESPN:

Baseball commissioner Bud Selig issued a statement confirming Pohlad's death, calling him "a true leader in our sport for the past 25 years."

"Since the day Carl Pohlad entered Major League Baseball, he made significant contributions to our game," Selig said. "His devotion to the Minnesota Twins, the Twin Cities and Major League Baseball was remarkable. In my long career, I have never met a more loyal and caring human being. We will miss Carl and all of baseball joins me in sending our deepest condolences to the Pohlad family for the loss of our friend and partner."

According to Forbes magazine's 2006 rankings, Pohlad was the second-richest Minnesotan with a net worth of $2.8 billion. Still, his teams often had some of the lowest payrolls in baseball.

When Pohlad paid Calvin Griffith $38 million for the Twins in 1984, he was widely credited for saving baseball in Minnesota. With the purchase, he inherited a promising group of young players that included Gary Gaetti, Kent Hrbek and future Hall of Famer Kirby Puckett.

"I live and die by every pitch," Pohlad once told the Minneapolis Star Tribune. "I want so badly for them to win. ... If it isn't competitive and you don't have a team with character, it won't be any fun."